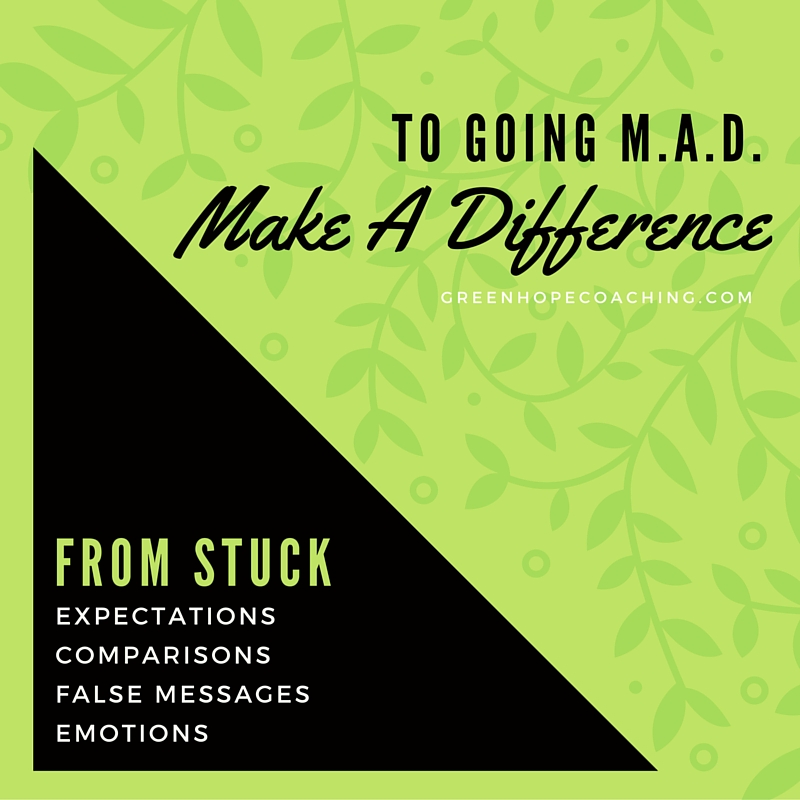 I had a delightful Saturday morning with an inspiring group of women at the Grace Church, Perrysburg, OH for their REFRESH & RENEW Conference recently. Wanted to share with you some of what we talked about at that event.
We spent our time together refreshing our viewpoints about ourselves, our story and our view of God.  We renewed our vision about the kind of difference we wanted to make in our lifetime. But we started with some honest talk about the 'real' of life.
As a life coach and former pastor's wife, I've talked with a lot of women over the years.  There have been two reoccurring themes that continue to come out in those conversations.
I want to make a difference with my life.

I'm stuck.
Does that sound familiar to your story? You want to make a difference.  You want to influence your world for good through your life in your lifetime.
But you are stuck!  Or you have been!  If you aren't stuck, or haven't been, you will be so we might as well talk about it. You know what stuck feels like. Stuck has kept you from making the difference you long to make.   So before we talk about the kind of difference we want to make let's talk about the obstacles to it.
What do you mean when you say you are stuck? When I asked the women this weekend for their answers, they gave me some of their answers to stuck. I've added a few others I have heard recently.
bored

not good enough

afraid

confusion

unclear directives

lack of purpose

worry

relationship issues

I can't do this

fear of failure

perfectionism

rejection

current obligations

financial fears

timing

lack of faith/trust
What would you add to the list?
Leave your thoughts in the comments below.  We will talk more about them in some posts to follow. Looking forward to hearing from you as we cease to be stuck and move toward going MAD (Make A Difference).
Join us on the journey!