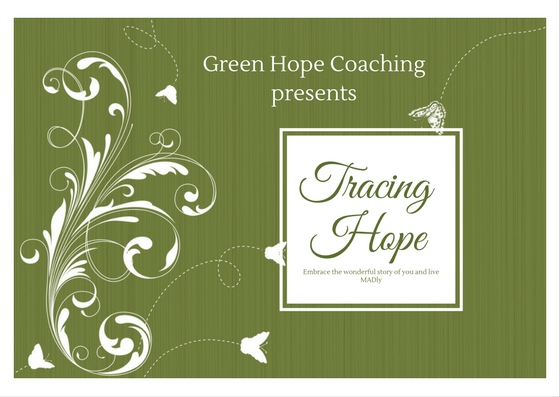 If you have been following me for a while, you know that last year I published my book called, Lovely Traces of Hope. In part, I wrote to better understand my journey to find hope in the middle of life's terrible circumstances. While I was at in the process of working through the stories- good and bad- that made up my life, I more clearly defined the difference I want to be part of as I help women to make their powerful difference.
As I have spoken to women who have read the book and connected to their own story, I often here them say,
I want to make a difference with my life, but I feel stuck.
I want to move forward, but I feel trapped by messages from my past.
I want to quit being driven by my past and instead be drawn to my future.
I wish I knew for sure I was hearing from God and not just 'wishing' for a different life.
I need a safe place to talk about these things with women who get the struggle and are moving beyond it.
Hosting a safe place for women to dialog about their story was a significant reason that I pressed through and finished the book.  So for five Wednesday evenings in May, I will host a pilot session for our first TRACING HOPE groups.
Each TRACING HOPE group will be focused on a theme to help women look at their own story and glean from it the significant, defining moments that influence how they live and behave.
Embrace the wonderful story of you and live MADly
(Make-A-Difference-ly)
There are three aspects almost always come up in my conversations with women…
Who am I? (our unique design)
Why did life lead me this way?  (our story)
What is the difference I was meant to make? (our influence)
Personally,  I have become very aware that before I can find my own answers regarding these issues, I need to be open  in my heart, my mind, my body and even my spirit to what God was really doing in me and through me.
We as women need to be intentionally noticing how God is breaking into our world everyday and listening to what He is saying to us.
So… we will talk about our design, story and influence, but we will start by paying attention and noticing the KAIROS of God's kingdom touching our everyday world.
Join us for the TRACING HOPE Pilot Session
to be held  
When: Five Wednesdays in May 2017
May 3, 10, 17, 24, 31
from 6:30-8:30
Where: Burrus home
(directions will be sent upon registration)
With a group of 12 women ONLY (space is limited)
Cost $197- Covers
Copy of my book
Tracing Hope Journal and materials
Light Refreshments
5 Group coaching sessions
Early Bird BONUS SPECIAL:  HAS BEEN EXTENDED
For each early bird member who signs up by midnight,
April 12th 26th, she will receive one free hour long coaching session ($125 value) to be used during or after our 5 week session. This is designed to  help you compile your noticings during group and get clear on the difference you were made to make.  Or you can pick the topic of your choice related to life or work.
Sign Up today to reserve your spot.  Only 12 spaces are available around my kitchen table.
(Future sessions will be hosted virtually, so whether you live nearby or far away, you can be part of this interactive session.  Be watching for dates and for more information.)