I've recently returned from TRIBEWRITERS 2017, otherwise known as #tribeconf.
The Tribe Conference is a marketing conference for people who don't think of themselves as marketers. It's a gathering for writers, artists, and creative entrepreneurs to grow their craft, share their work, and get the attention their work deserves.
I would describe TRIBEWRITERS as a community of weird, brave and oh so creative men and women who have 'stuff'.  It is the kind of 'stuff' that is made up of real, often messy, mostly ordinary people and events in our lives that make up our story. 
And yet, in the telling of the ordinary, we are creating, crafting, designing, writing, honing, publishing the extraordinary lessons of discovery, transformation and hope!  Not hope as in "i wish" but hope as in life-giving pointers of new beginnings and positive outcomes.
In this sharing of stories that a very real and authentic community is born Click To Tweet– unlike any I've ever seen.  Built on courage-   enhanced by story- modeled by our slightly weird, extremely brave, oh so creative Tribe leader, Jeff Goins.
Jeff is the main reason I am a Tribewriter.  Not because I am a celebrity follower, I'm not.  Granted, I like meeting a person who's 'made it' just like you.  I can learn a lot from them.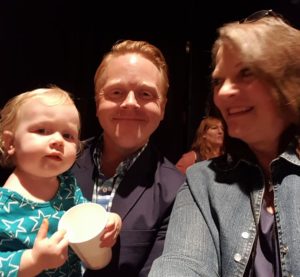 But I like hanging out in Jeff's world because he speaks and writes from a very honest place in his own journey.  If he failed at 8 blogs before he found the one that clicked with his values and the need of his tribe, he shares that with us.
If he succeeds and gets everything he thought he wanted – and yet finds it 'underwhelming', he shares that too.   Along with the choices he has made to choose those things that are 'essential' for him.
He lets us see what it is really like to be a Tribewriter, connecting with a group of people who not only need what we offer, but thrive in it. Not easy!  Still worth it!
But the community itself is the other reason I have already signed up for my 4th Tribewriter Conference in 2018.  From the incredible line up of speakers to the inspirational people at my table, all three years, I have felt like I was in the right place and the right time with the right people.
There were weird times…
when we spoke of dorkgoblins- those creatures that we turn into when we are about to meet a new person or a 'celeb' and we say the most ridiculous things.  We were encouraged to name our goblin- so we could have compassion for them and talk them down.  Mine is named Thecilia! I don't know anyone named Thecilia and my dorkgoblin acts like no one I've ever known.
or there was the time we played musical chairs and experienced what it was like to meet a new person, put our hands on their shoulders and look into their eyes. Thecilia had trouble looking into the eyes of a stranger- but doing it, found compassion and courage to dare to put myself in someone's space again.
or when we were challenged to write a dekaaz- a 10 syllable, 3 line quote that is memorable, focused, and  quotable.
One of mine was …
Be You! (2 syllables)
Be In-spired! (3 syllables)
Make Your Diff'rence Now! (5 syllables)It was weird until it turned wonderful.  A wall of words that clearly and concisely spoke the hearts of so many. 
There were the brave moments
like the time I admitted I felt like a "poser"- trying to appear to have more bling in my life than I really have.  When I shared my thoughts with a girlfriend, she breathed a sigh of relief.  "I feel so tarnished".   Yes, she got it! I got her! We quit pretending.
when a woman began to share her story- trusted me enough to go deeper than usual- then watched my eyes intensely to see if there was judgement or support.  I have grieved for the many times in the past there would have been judgement.  I rejoiced this was not one of them.
And then there was the creative!  Oh my!
artists of paint, paper, teddy bears, and jewelry
wordsmiths of blogs, social media, articles and books
strategists of networking, marketing, timelessness, and self care
platforms of speaking, acting, music, videos, podcasts, and books
topics of Music, Art, Travel, and even Shakespeare! (love her!)
I was continually amazed that while we were there to learn, grow and network, our WHAT was so very different. And I still fit… Click To Tweet
I attended TW 2015 because I had a book in me that was burning a hole in my heart. The message I heard that year was "You are a Writer." I wasn't sure I believed it, but I made a commitment to have "Lovely Traces of Hope"  done by the the TW 2016 conference so I could present it.  I did.  As many more did this year.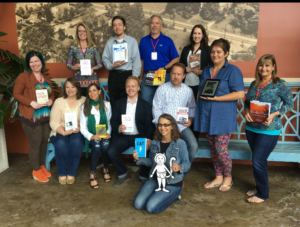 This year at TW 2017, over and over I heard- (in dekaaz form)
Don't quit! Just Show Up! Fo-cus to Fin-ish!
Click To Tweet
I know exactly what I need to do next. You may not know what I mean, but I'm guessing somewhere in there is a message for you too!
Why?  Because we are not so different you and I.  We want to leave a lasting legacy for our world.  Tribewriters is helping me- and my tribe- do that! It is available to you too!
Don't quit doing what you know you were made to do.  It might look different than when you envisioned it- but don't let that stop you.  Be willing 'see' your art in a new way.
Need a community that will support you in that journey! Look no more!  Join Tribewriters today!  You'll fit right in.
Got questions?  I'm somewhat weird, brave and creative.  I'd love to help you get your answers.
Here's to the weird, the brave and the creative side of you!
Click To Tweet
Embrace it!
Use it
to make YOUR
diff'rence in this world!
---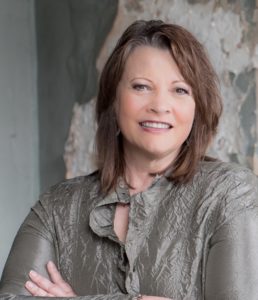 Green Hope Coaching with Kathy Burrus
Kathy is a Story Teller, People Connector, and Life Coach for women and couples seeking to intentionally notice and design hope in life, love and even their loss.  It's her mission to help you own who you are- your voice, your message, your influence to make your difference in the world.