For more information, scroll down!
The year is new- your goals may be too!
Or perhaps you have goals that were not accomplished in 2017 for one reason or another.
Very often, we set really amazing goals for ourselves or our business but go months without seeing any results.
What will it feel like in the first 6 months of 2018 to know you have already accomplished many of the goals you have set for this year? 
You know that your greatest success often comes when you make yourself accountable to take your best next steps.
Then POWER HOUR is for you!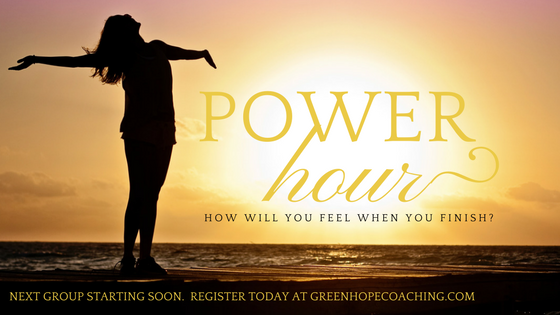 Let the POWER HOUR group help you
brainstorm your options
clarify your next steps
hold you accountable to them
Five Weeks of POWER HOUR Online Strategy Calls
Begins Sunday January 28th- February 25th at 9:00pm
Yes, that is over the phone at 9:00PM (Eastern time zone)
Each one hour POWER HOUR session helps you
Clarify your ONE THING
Connect to your WHY
Identify the obstacles to getting it done
Create the best next steps to take
Celebrate your success
Picture your ONE THING!
Here at GREEN HOPE COACHING WITH KATHY BURRUS,
we believe that what you do matters- in fact, it is vitally important
to the difference you make in your world. That's why
POWER HOUR can partner with you to encourage, challenge and
keep you accountable to what is most importantto you.
What does that look like to finish your big goal?
How does it feel?
Here is what past clients have said:
"Woohoo! 2 responses from my 13 LinkedIn emails!!
One is coming to an event and bringing a guest,
the other is coming to a complimentary session!!
Thank you for keeping me accountable!"  – Business coach
"When I first signed up, I was concerned the process wouldn't be effective
for me because you didn't have a background in law. I did not need to be
worried. I found that your process of breaking down goals into next steps
and accountability is applicable to all industries and that you were very
willing and able to understand my specific challenges. I feel that I
achieved my current goal and came away with skills to help me tackle
my next project. Thank you!" -Lawyer

"Thanks so much Kathy. So good to be moving forward!
U R in the right field!!" -Wellness coach

That's just a few of the responses. Each woman conquered
the fearof learning something new or the desire to procrastinate
and are now seeing POWERful results.
More details of this and future POWER HOUR sessions
can be found at greenhopecoaching.com.
Cost for 5 sessions is $157.
(Phone number and access code will be sent to you after registering.)
and receive an additional 30 minute laser coaching session
to be used before, during or after your POWER HOUR session
 This offer is only good for the first five women to register
by January 21st.
What will it feel like to be finished?
Sign in with your NAME & EMAIL TO REGISTER NOW!
Payment will take place on the next page.