For the past couple of weeks I've written about my ponderings on the word EXQUISITE.  You can find those earlier posts here.
But today's post is the visual example of how paying exquisite attention affects our ability to finish what we have started. 


This fall, our daughter, Brielle, ran a marathon.  She has participated in several half marathons in the past, but even as she was recovering from last year's half marathon, she said, "I think I have a full marathon in me yet. I want to run it. "
She did!
As I listened to her train in preparation for this, I was intrigued.
running several miles regularly on weekdays
running 18-20 miles on the weekend
adjusting her food and water intake
paying attention to her sleep
She wasn't perfectly training, but in the middle of a full time job and other life events, she was very attentive to how she prepared.
The day of the race, yes, there was a nervousness about what she was going to do. At one point she smiled through grit teeth and said, "I wonder if this is the stupidest thing I've every done."  But as she readied her gear and packed her snack for after the race, there was  an energy, a curiosity, a drive in her that said "I am doing this!"
I didn't go to Columbus with Brie, but Jason and Rennie went along to meet her at various locations along the way with additional refreshment.  From the moment they left, I found myself pacing the floor with an energy and excitement for her.  Some of that is mom still being mom and excited for my kid.  But most of it was a true admiration for the tremendous feat she was about to undertake.
I was able to watch her on my phone via the app they had for tracking the runners, her little BA for Brielle Augsburger moved steadily across the map.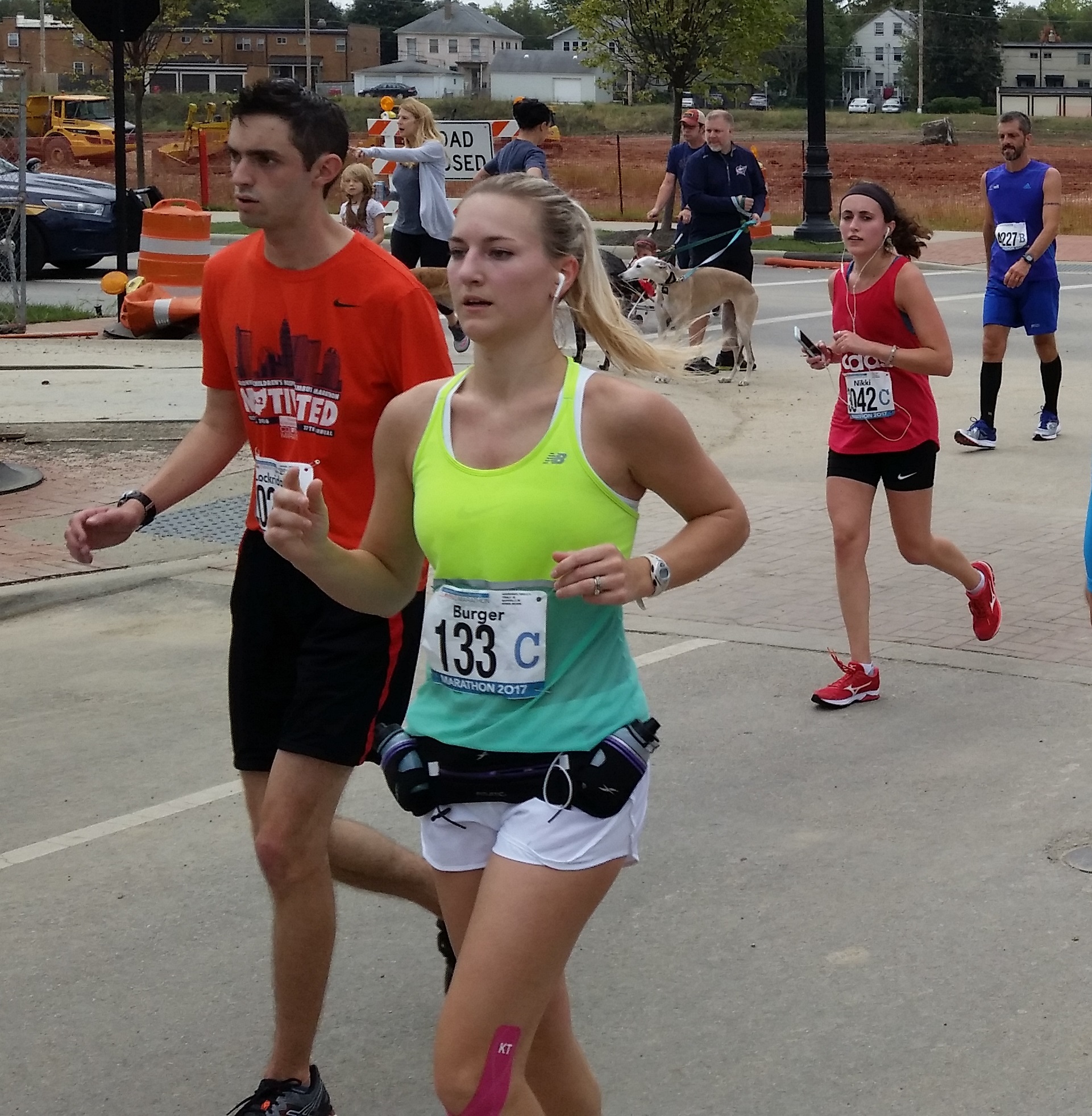 I watched as she took off.
I watched her take the same route of the half marathon she had run the two previous years.
It was when she got close to that place where they half marathoners turn off to go to the finish line,  that suddenly my emotions spilled over.  There was this awareness that she was again at a point of starting something new.  At that place of doing the next hard thing that she's never done before, but that is so much like what she just finished.
But now she is tired. She has already pushed for nearly 2 hours and she's starting the next half of the race. I wondered how she was feeling and how she was keeping her thoughts in check, her attitude focused on the finish line.  Those of you who are runners, I'm sure have a glimpse of what it takes.  But this type of endurance is very foreign to me.
The picture it was painting for me was —exquisite!
Many of us are at that place- at a point of beginning again, starting something new.
We're tired, and weary, and very aware of all that is going to have to happen in order to do this 'next thing' -whatever that is for us.
And yet, we are determined and excited – just as Brielle was – to finish what we started- and finish strong.
As she ran that race and got a couple of miles from the finish line, I just kept thinking of her, wishing I could be with her as she crossed the finish line.
But the moment that was most meaningful to me was when she came home- tired, her body pushed to new limits,  juggled and jerked around all morning.  I don't know what I expected, but the look on her face was not of exhaustion- though she was tired.
She held up her medal with the biggest of smiles on her face.
As she did, again my emotions turned to tears.  In her hand was this heavy, beautiful medal that said FINISHER.
FINISHER.
That was the other word that I've been pondering this month- Exquisite and Finisher.   I created an image for my computer to remind me of a quote from John Acuff, author of a book called FINISH.
Starting is fun, but the future belongs to the finishers.- John Acuff
Click To Tweet
 As I took the picture of Brie standing there looking so excited to have done it, I saw an example of an exquisite finisher. I edited the image to put Brie's picture there instead.
I want to be a finisher.  I want to finish. That means I must be intentional.  That means I must keep going.  That race reminded me that the journey that I'm on is much like a marathon Click To Tweet.
I am passing the half way mark where others are turning off- their race complete.  But I must keep going knowing that I have a different race to run.
I don't want to just finish.  I want to have an exquisite finish, knowing I have paid attention to the
the values that matter most,
the relationships I cherish deeply,
the goals that help to make the difference I long to make.
Brie was an exquisite finisher.
She taught me what it meant for me to be at this place of doing something new- again.  She gave me a vision of what it's going to take…
internal drive, power, energy,
intentional preparations
a mindset of a finisher that says "no I'm not going to quit"
a focus that just keeps running when she meets her husband on the road with her next snack and he runs along side so she can keep her pace.
She gave me an exquisite example of what it means to keep going, keep working to finish.  Not just finish well, but finish strong- exquisitely.
I am so proud of her and so aware that this is a moment that is teaching me what to do next.
I'm going to be that finisher.
How about you?  What do you need to do to FINISH EXQUISITELY? Click To Tweet
Let's do this together!
---

P.S.  Check out the GHC's POWER HOUR starting Sunday, October 29th.  This 5 week video chat is designed to help you FINISH STRONG and see the possibilities.