A few days ago I shared the introduction post above with a promise that I would continue the story.  It is a story of my champion; a woman who walked into my life and made her authentic difference.
I learned much from pondering this story over the summer.  This post is Part 2 of- well, I'm not sure how many more posts it will take to finish the story.  Lean in! Listen close!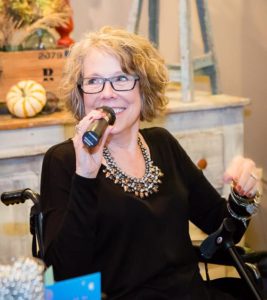 The first time I met Jenn Wenzke was January 2015 at the first meeting of a brand new networking group especially for women in business. Jenn walked in with a cane, was careful not to get caught in the traffic and seated herself at the far end of the room. She was smiling, and friendly, and had a team of women with her who were checking on her and making sure she had what she needed.  You see, Jenn had been diagnosed with ALS (Lou Gehrig's disease) some months earlier.
When the meeting started, our host turned the microphone over to the founder of our group.   Jenn stood, and as she did every So Now meeting she attended since then,  began to share the story of SO NOW (formerly Stone Oak Network Of Women. Location changed but the abbreviations stuck). She shared her heart for this group for Women Encouraging Women to Reach their Unique Greatness.
I immediately connected with the mission and the spirit of the group– and more specifically this woman who was here in spite of her circumstances. Maybe she was here more BECAUSE of her circumstances, not just her illness but the stories of her life that had threatened to destroy her and any hope of a future she might have.  She had overcome.  She was persevering.  She was making a difference– and I wanted to know her!
As the evening was coming to a close, I slide into the chair closest to her and listened in as she finished up another conversation. Then she turned to me.  She asked my name and we discussed our commonalities of Mary Kay and coaching.  She had been a director and driven the MK car for several years. She had given the car back to pursue life coaching because she found a desire to speak more deeply into the lives of women.  I had only dreamed of the car– hit too many personal ceilings to pursue it further and had eventually stepped out of MK for coaching.
She asked, "Kathy, do you know your value?"
I hesitated to reply.  I wanted to boldly say, "Yes mam!  I do!" But the honest truth was, I didn't.  I wondered if I really did have something to contribute.
Before I responded she went on.  "Kathy, do you offer value to your clients?"
Hmm!  By then I had been a life coach open for business for 4 years.  I believed I did offer value to my clients. I was more convinced of that now than I had when I started.  But it was hard to feel like I had something to offer when I still felt so broken from Leisha's death.
Slowly but surely, I was becoming more aware of what I could offer to the woman who came to me.  Not just because I could coach her, but because I understood her.  I was her.  Been there! Done that! Still there is some ways!
Then Jenn had one last question.  "Are you charging what you are worth?"
Uh! No!  I knew that answer.
"Who can really afford to pay a coach what they are worth? People aren't often big spenders on the kinds of things that move them forward.  I just don't think that would work for my clients."
"Well," she said, "When you are done making excuses, you can get on with your business." 
AH! There it is! 
In 3 questions, she had summed up the greatest limiting beliefs of my life.  My struggle with ceilings were showing up again.
I didn't know my own value,
or the value I offer to others.
The wrestling I was going through with the first two questions kept me from being confident to say I am worth being paid for what I do.
Yep!  That just about said it all. Jenn had me pegged.  And we had only known each other an hour.
What is my value?
Answering that question for myself is probably an on-going exercise for the rest of my life.  As it might be for you as well.  Some of what I've discovered about my answer, I'll be sharing in the next few posts.
Do you know yours?
For today, I want to share with you a process that I went through this summer to begin to address why this was such a significant moment in my life.  I've also created a 5 DAY CHALLENGE to help you do the same thing.  It's called…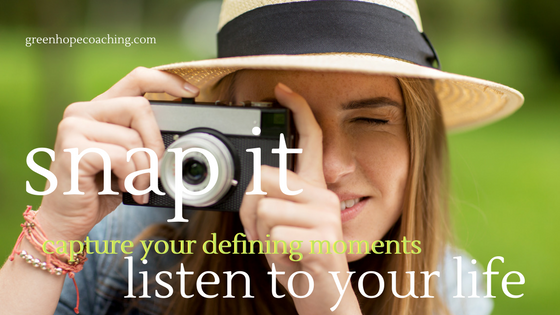 S.N.A.P. is an acronym that stands for Stop, Notice, Ask & Pivot. 
Want to know more about the 5 Day Challenge that starts Sept 11- 15th?  Go here!
That's what I did this summer! Stopped, Noticed, Asked & Pivoted.
But in the process of doing that, I became increasingly aware of this mental game I played with myself that didn't answer the question "Who Am I?"  or "Do I think I have value?"
My question sounded more like "What should I be doing to be who I think I should become?"  Do you have a question like that in your brain or am I the only one?
I found myself not looking for me- but for who I thought someone else thought I should be.
And truly, when Jenn asked me if I had value, my thought was more about whether I thought she thought what I did had value.  Do you see how confusing it can be? (Please tell me I'm not the only one who does this.)
But Jenn never let me get away with that.  More than once she inspired me to answer a question similar to this.  And more than once reminded me, "When you are done making excuses, you can get on with your business." 
But that's another story for next time.
In the mean time…here are some questions for you to ponder. Actually that's part of my value- and the value I offer to you.  I ask great questions – and better yet, I care about your answers.  I realize some questions merely prompt thought that leads to answers down the road. I'm ok with that too! So…ponder this!
Do you know your value?
What defines 'value'? 
Do you know what you value?
Do you bring value to the people in your family, business, community?
Leave some comments below.  I would especially be interested in what defines "VALUE" for you.
Until next time!
You matter!  Just as you are!
Kathy
---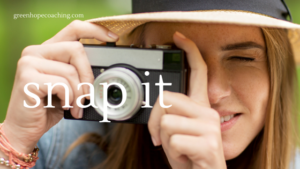 Here at GHC this fall, we are going to be talking more about You and Your Authentic Difference.
The first opportunity is the 5 Day S.N.A.P. it Challenge.  Find out more out it here. 
I'll be telling you about the next opportunity (an ONLINE GROUP) starting the end of September in the next post.  Be sure to watch for more information.