The Fall season is not officially here, but with the start of school, and football games and the cooler temps we've been having (at least in Ohio), it feels like fall all over.
But that also reminds me that we are nearing the end of 2017.  Can you believe this year is on the wind down? Doesn't it seem like we were just setting our goals for the new year?
If you are a goal setter, you might strategically set goals
the month,
or the quarter or for 90 days at a time
or 100 days at a time.
or maybe just a wing and a prayer moving through each day as it comes.
I like to look at 100 days at a time (though the 'wing and a prayer' has been known to happen on many occasions. )  I especially look at the last 100 days of the year which, if I counted right, actually starts September 23rd.
Or if you save the last week of the year for time with family and friends, or reflection of the old year and planning the new, then the last 100 days of the year start September 16th.
But here's the thing.
I can spend a lot of time making goals, creating plans, strategizing about next steps and get to the end of the year and wonder…
Is this where I wanted to end up this year?
Or am I trying to do what I think I should do to be who I think I'm supposed to be?
Have I made the kind of difference that I really value most in my own life?  
What questions do you have in your own experience?
Well, that's why every year about this time of the year (and around the new year,  and usually April), I create some space to LISTEN.  I get intentional about those things that I am noticing in my world. I work to get a clear picture of what my life- my story- are telling me and what that means for my next steps.
This year, I'm inviting you to join me in the process.  I'm calling it…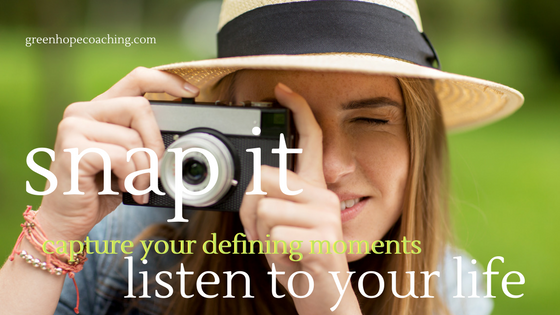 Join the 5 Day S.N.A.P it Challenge!
Capture Your Defining Moments and Listen to Your Life.
For 5 days in September (11th-15th),
at 9:00am each morning
I will host a FACEBOOK LIVE event on the designed to help us S.N.A.P. it!
Each day, we will intentionally pay attention to the seemingly random events in our life that stir us to the core. Then we will seek to discover what they are telling us about…
our past and our future
our relationships
our influence
our view of the world
and the next best steps for us to take to make our difference.
But what a better way to process some of these thoughts than to be part of a community of women who are also seeking to leave their mark on the world in a way that matters.
Want to know more about the 5 Day S.N.A.P it Challenge? click here.
Want to sign up to join? click here
Here's to capturing your defining moments and listening to your life!
Let's S.N.A.P our difference in 2017!
Kathy