I love them! Those AHA moments!  Today I woke to an AHA!
Last fall, as I was regrouping after the weddings of our two beautiful girls, and as I was helping to prepare for the wedding of my dear friend,  I did some goal setting for 2014.  (I'm not good at new years resolutions so this works better.)
I usually start by writing down a long list of things I might like to do- then I sort those into NOW list and a BUCKET list.
Then I prioritize the NOW list and then choose the 3 priorities that I believe will have the greatest influence.
For 2014, my top 3 were:
My marriage- thriving in being two again
My business- completing the Business Plan Competition in March and bringing Linda Dillow & Dr Juli Slattery, of Authentic Intimacy to Northwest Ohio and the surrounding areas.
My health- finding strength and wellness to increase stamina and enjoyment in life.
This morning, Coach, Author, Speaker and my virtual friend (we've never met face to face) Carrie Wilkerson, challenged me to consider whether I was making progress toward my goals- or waiting for perfection.
Often I have- and do – wait until I have all the pieces in the right place, know exactly how I will present it or what needs to happen for it to make the biggest impact.  In other words, my project sits on my to do list until I get tired of seeing it and either do something or just eliminate it.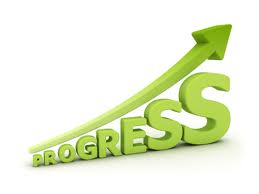 But as I listened to Carrie this morning AHA!  I AM MAKING PROGRESS!
Ren and I aren't where we want to be – but we are having a great time getting there!  It's thrilling to begin dreaming dreams together again and finding new ways to love each other.  I wouldn't trade this time for anything.
I've completed the Business Plan- got 2nd in the competition.  What's more- it's a business plan I refer back to often.  It's working for Kathy Burrus, Green Hope Coaching.
I'm especially excited that Linda & Juli and their team will be in Lima on October 3 & 4!   The Lima team is growing,- connecting
women to the message God is giving through Authentic Intimacy!  Twenty years ago I put this on my DREAM list- to bring Linda Dillow to my world.  Now is the time!  Now there is progress!
As for my health, thanks to the research and persistent efforts of a faithful friend and chiropractor, Dr John Needler, I'm finding renewed strength.  I'm up much more than I am down- and I'm doing things I haven't done in a long time.  Will I ever be 'healed' completely?  That remains to be seen.  But I feel LIFE in a way I only DREAMED about for the last 12 years.
PROGRESS- forward or onward movement toward a destination!
It's not perfect!  Sometimes it's even messy!  But I'm on my way!
How about you?
Did you set New Year's Resolutions?  Have they gone by the way as so many do? Do you realize that if you start NOW- you may be able to make some significant PROGRESS or even complete them by New Years 2014!
What are you waiting for?  Let's make PROGRESS together!