I have been working on material for the new group which starts May 6th called UNIQUELY U: MAKING THE DIFFERENCE YOU WERE MADE TO MAKE.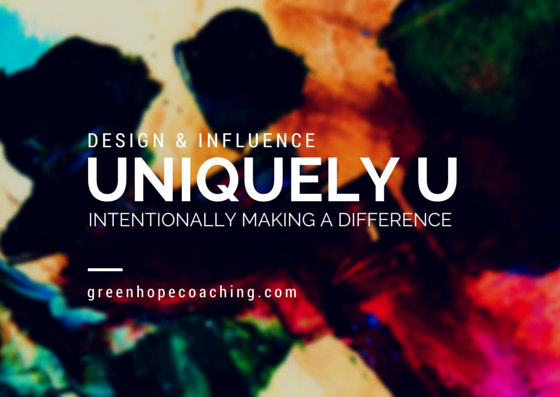 I ran across this quote that stood out in my mind.
Carve your name on hearts, not tombstones. A legacy is etched into the minds of others and the stories they share about you.
― Shannon L. Alder  From https://www.goodreads.com/quotes/tag/legacy>
I have recently thought much about the legacy people leave as both my mother-in-law and my father are celebrating their 80th birthday within a month of each other.  So much of what we have remembered together with them and friends who came to celebrate with them are the stories.  Stories of people who left their mark.  Stories of events that significantly changed the way people thought or behaved.  Stories of a life lived in such a way that it made a difference in the stories of others.
So I can't help but ask the question of myself, and now you.  What are the stories of people who have made a difference in my life? In yours?
"Your story is the greatest legacy that you will leave to your friends. It's the longest-lasting legacy you will leave to your heirs."
― Steve Saint From <https://www.goodreads.com/quotes/tag/legacy?page=2>
For me,  I have bee thinking a lot about the people who have most influenced my life.
Besides being my parents, my father was my Pastor, since I was 2 years old. But he also had side jobs to provide for our family.  He had a lawn business when I was young and would plug us kids into 'jobs' as soon as we were old enough.  He  taught me how to work with integrity and the value of a dollar, since it took a while to start making $1 an hour.
My mother was my Sunday School teacher, piano teacher, sewing, baking & cooking teacher.  She taught me to love people- and their stories and the love of planning events that connect them to each other.  She also taught me a love of writing- most recently several years of writing her "Grandma Remembers" letters to her grand kids each month.
My mother in law was also my favorite teacher.  English, Speech, One Act Plays, Literary coach, and Class sponsor were some of the ways she influenced my life.  That was even before her son became my boyfriend.
My father in law was the county agent and he was involved with my 4-H group and other events I participated.  He was a tall man and everyone looked up to him physically.  But he also had a way of connecting with a shoulder squeeze and a laugh that made you feel like this 'big' man liked you.
My Aunt Rosalie and Uncle Flick mentored me through college life, even as Flick was my college professor, voice coach, choir director.
But there have been many other stories that have surfaced too.
One hero was my 6th grade friend, Gina. When I was in the 5th grade, our basketball team was playing in a tournament and it was a tie game.  In the last 10 seconds of the game, Gina scored the winning two points.  We were ecstatic.  I spent the night with Gina that night.  I kept saying, "You won the game for us Gina!"  Just before we fell asleep she rolled over and looked me in the eyes.  "Kathy, my two points wouldn't have mattered if the other girls hadn't made their points, or the guards hadn't kept the other team from making some of theirs. We won because each member of the team did their part.  I just got to make the last two points.  That was my role."  I knew she was right and have called on that memory many times in my life.
  Or Lavetta, the woman who believed in me enough to encourage me to be in the 1974 Miss Lipscomb County pageant when I was 16.
Or the worship team that traveled with me to Ukraine. the night they came to lead me in worship was the night I was diagnosed with Addison's and was finally feeling better.
 Or Doris who made the Thanksgiving Dinner for us that night- the best meal I have ever eaten.
Or Janice who said yes to helping me plan work out my end of the details for my girls weddings.
 Or Barb who helps me SEE so much of my life and emotions tied to it.
Or Pat who asks me the kind of questions I ask my clients!  And listens to my answer.
Or Christy who encourages me to do the next thing I need to do.
Or Lydia and Lisa who are/were pastor's wives and shared life with me.
Or Cait and Brie who love me- and notice things no one else does in my life.
Or my dear husband of 36 years, who cares for me more intimately than I ever dreamed possible.
Each person – and many I didn't share about here- has left a mark in my life.  They have made an extraordinary difference being their ordinary selves.
What about you?
Who are the people that have made a difference? 
What was that difference?  Did it change your thinking, your behavior, or attitude?
 What will you do to tell them thank you again?
 Who will come to you with thanks for something you have done in your life? 

We don't usually know who those people are.  But we can be intentional at leaving the kind of difference we were meant to make.
Do you know what yours is?
Let's have that conversation.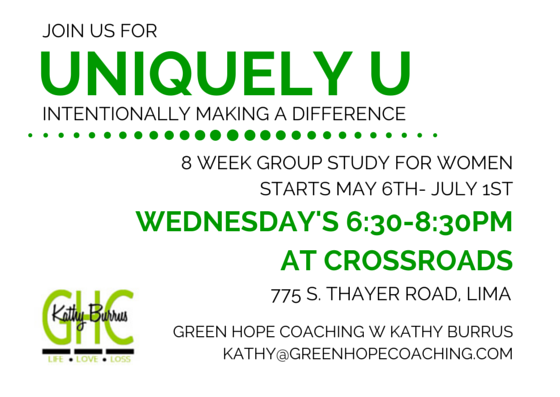 The actual questions and answers will depend on you!
Your story
The messages playing in your head
the truth you live by
Your skills, abilities and talents
Your calling
Cost for the class is $20 per session or $150 if you pay for all 8 sessions by May 1st. (that's a $10 savings)
will include:
 8 weeks of group coaching, which means
you benefit from your own coaching,
as well as learn as you listen to others process as well.  (Tremendous growth occurs in the synergy of authentic community. )
Yes, it is a risk you take.  But it has powerful potential for encouragement, support, and accountability.
You get to experience the benefits of coaching at an affordable price.
Materials used in the class, including book, worksheets and possible assessment.
Register by emailing Kathy@greenhopecoaching.com. Write I'M INTENTIONAL in the subject line.
Let's be intentional about making the difference we were made to make!