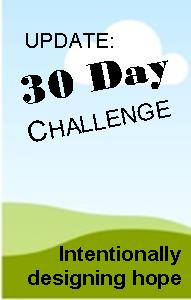 If you started the 30 DAY CHALLENGE with me on October 27th, that means you have one week left to complete your goal.
How are you doing?  Have you stayed on track with your plan?
My month went great the first 2 weeks.  The fact that I set my goal and created a plan went a long way toward moving forward.
But this last week there were quite a few obstacles that I wasn't expecting.  Health, weather,  life challenges…!
How about you?  Have you felt your momentum getting hung up in the 'stuff' that interferes?  
Well, today marks a PIVOT POINT! We must choose! Continue reading 30 Day Challenge Final PUSH →