The NAKED TRUTH conference brochures are ON THEIR WAY!  7500 should be here next week.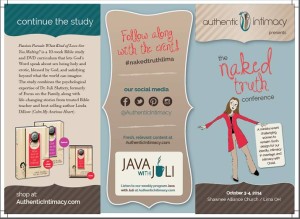 The NAKED TRUTH brochure
The message of this conference is powerful- pointing us to God in every area of our life- but especially our sexuality. We are all created as sexual beings. That's not negative or derogatory- THAT'S GOD DESIGN! Chances are – married or single- we have ALL dealt with issues related to our sexuality. Linda Dillow and Juli Slattery are brave enough to speak God's Word into this discussion.
SO HERE'S THE CHALLENGE: Who do you know that needs to be invited to this conference? What church or organization needs to get a promo pack with brochures?