In my last post on Broken…Made whole 2, we considered in what ways are we broken and the many synonyms for the word.
So what did you learn?  What are the areas of life that need attention? Some things are blaring- we know what's broken and we think it can't be fixed.  I know, because I already confessed that I felt that in several aspects of life.  But often, we don't notice something is broken until we intentionally stop to look at our life.
Where are we limping by?
What are we always working around because we can't seem to work through?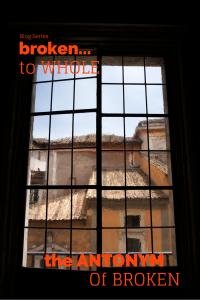 But…today's post is on the OPPOSITE of BROKEN, Continue reading Broken…to Whole!: the ANTONYM of Broken →